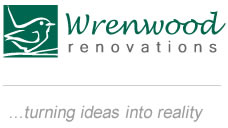 Testimonials
"We are delighted with our beautiful new windows and doors and the perfect rendering. The transfomation from ugly old shop front to elegant home is quite remarkable and has been roundly praised by neighbours and passing tourists alike.  Simon and his team skillfully managed the difficult access to the property and minimised the disruption to this tourist-popular area.   The whole experience was stress free from beginning to end and completed well ahead of schedule.  Then finally to bring in a professional cleaner to make the place spick and span just put the icing on the cake."
-Pete & Geraldine
"Simon and his team have now completed our new kitchen. It looks amazing! They took down a load bearing wall which has made a previously dark room light and spacious and has made a massive difference. Simon did everything that he said he would do and more, even making 2 shelves out of leftover worktops. I would definitely recommend Wrenwood Renovations and would have no hesitation in using them again."
-Emma Lowden
"I was very impressed by Simon and his team, he gave me an accurate estimate and covered every detail of the job. The team were here by 8 o'clock every morning and worked incredibly hard during each day right through to 4.30. We are over the moon with the results and the amount of light and extra space we now have! I'd definately recommend Wrenwood Renovations to anyone and if we decide to carry out any further improvements, will ask them to do the job!"
-Sarah Wilson
"The conversion that you carried out on Threshers Barn is simply delightful and has been much admired by our many friends. The thoughts and ideas that you put into the design were outstanding and we are very pleased that you were able to incorporate our various needs with such complete success. The fact that we were living 200 miles away during the conversion says much for your ability to liaise with the client so that the twelve month project was completed exactly on schedule, to a superb quality standard and to budget. We are delighted with the result and very happy in our new home."
-Margaret & Jim White
"We have seen the work Simon has done restoring his houses and have had work done for us in our home and have found it to be of the highest quality with a very good finish. He is easy to work with from conception to completion. Simon and his wife work as the team Melanie is very talented in design and her suggestions with Simon's expertise produce a very good finished article."
-Dr. Michael Cracknell
"Simon has built a house for our family to the highest specification. He worked on the site continuously until the work was finished. Simon was at all-times polite and professional. His workmanship is of Craftsman standard. I can highly recommend Simon Osborne for any job connected to the building trade."
-Elizabeth Gibson
"I hired Simon and his team as a result of his positive response from this site.
A visit to view the work and tightly working conditions was promptly followed by a quote and subsequent email discussions (as I was busy at work) to confirm one or two items, all of which had positive outcomes for me.
He sourced the electrician to carry out the electrical work so I didn't have to think about this.
On the day they were due to start everyone turned up at 08.30 othe dot and instantly started to get to work.
Everyone worked cohesively, which lead to a lot getting done in a very short space of time and nothing was a problem and to quote Jay a member of the team "Everything is possible"
Every item I had requested as part of the work was remembered! carried out and even additional thought was offered to me on how to do something to get a better finish or end result.
I couldn't be happier with the end result and the time & cost it took the team to complete the work.
I now have a fabulous new kitchen based on a design I put together and simon ensure was delivered to the highest standard.
If you're looking for a quality job, Simon is definitely someone I would suggest you contact.
Worth mentioning I did ask for references, all of which came back with the feedback I have given here.
Thanks to Simon and his team for a great experience on something I was expecting to be more arduous than it actually was.
Excellent work.
-Alan Briggs
Yeolmbridge, Launceston.
"I am very happy with the works carried out by Simon Osborne and the polite staff that helped, they all worked very hard from start to finish and left my property clean and tidy, I will certainly recommend them to others, and I would use them again thank you."
-Mrs Elaine Steward
"Simon and his team worked quickly and efficiently to complete this project on time and on budget. We are delighted with the results hope to use the team again in the future."
-Nigel Spears
"Simon worked quickly and efficiently to complete this project within the time-frame we had agreed. We are delighted with the quality of the workmanship and his attention to detail. We look forward to engaging Simon again in the future and have no hesitation in recommending his services to others."
-Nigel Spears
"I would very much like to thank you and your staff for the extremely professional and courteous manner in which this work was carried out. We are delighted with the result and shall not hesitate to invite your firm to undertake other work on our behalf. Many thanks."
–Martyn and Liz Squire